Tonight is the Hollywood take over..... in other words Hollywood never has this kind of talent.
The Beat's Antique show that I've been working on is sold out, but if you still don't have a ticket don't fret. The Wandering Marionettes are around the corner... DONT MISS THEM!!!
The Do LaB is excited and proud to be bringing Beats Antique to LA.
We'll have Deru (http://myspace.com/iamderu) and Jupiter (http://myspace.com/djjupiter) on hand to warm up the packed house.
Our last event at the King King sold out, so be sure to get your tickets now. We hate having to turn people away at the door.
Purchase Tickets: http://beticketing.com/beatsantique
Also tonight down the street check out Wandering Marionettes live at Boardners!
http://www.wanderingmarionettes.net/
Also tonight catch Quetzal Guerrero at Afro Funke:
FELA.....what more can we say. It was definitely a "FELEBRATION" last week when AFRO FUNKE' got together with GIANT STEP and KF RECORDS to celebrate Fela's birthday and the re-release of his music. There were so many amazing people from all over the world who came together to celebrate the incredible musical legacy of the original "Black President" and one of the main inspirations for what we do at AFRO FUNKE' each and every week. For anyone who was blessed to have seen Fela live or visited his original Shrine in Lagos , the spirits were definitely in the house.

Big thanks to DJ NU-MARK for an absolutely smokin set for his first time out @ AFRO FUNKE'. Thanks as well to AMON who flew out from NYC to throw DOWN on percussion.

This week get ready to get down with an exciting new artist with the
world on his strings....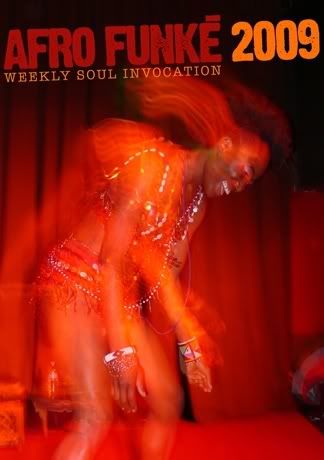 ------------------:~0~:------------------
Tonight
------------------:~0~:------------------
AFRO FUNKE'
WEEKLY FUNK INVOCATION
------------------:~0~:------------------
Afrobeat, Brazilian, Dub, Reggae, Cumbia, Samba Disco,
African Salsa, Afro-Latin House, Indian Beats, Makossa,
Balkan, Funk, Blues, Highlife, Broken-Afro-Beat, Salsa,
& Other deep-rooted soul music from around the world
------------------:~0~:------------------

AFRO FUNKE' LIVE PRESENTS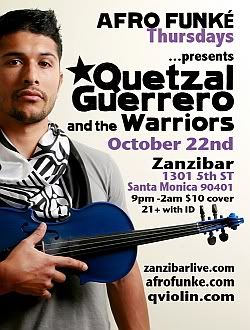 QUETZEL GUERRERO & the WARRIORS
Arizona Native, Quetzal Guerrero, whose name means "precious feather" in the ancient Aztec-Nahuatl language, began his musical explorations at the age of four. As a child, he studied classical violin at the famous Suzuki International Institute in Matsumoto , Japan as well as at the Conservatorio Pernambucuano de Musica in Recife , Brazil . Through the years he has become an outstanding multi-instrumentalist and performer, fluid with his voice, violin, guitar, and percussion.

Quetzal's art, much like his Native American, Mexican and Brazilian heritage, bridges many cultures and styles. The result is both familiar and fresh to the listener, offering an unassuming yet explorative convergence of styles and influences spanning, but not limited to Soul, Jazz, Brazilian, Salsa and Yoruba music. A consummate and electrifying performer, Quetzal exudes a brilliance that is both precious and rare.
www.qviolin.com/

resident deejay:
JEREMY SOLE
(Afro Funke' / KCRW / Musaics)
www.kcrw.com/jeremysole
www.myspace.com/musaics
www.twitter.com/jeremysole
www.blip.fm/jeremysole

resident deejay:
GLENN RED
www.myspace.com/glenn_red

host:
ROCKY DAWUNI
www.rockydawuni.com
www.myspace.com/rockydawunimusic

afro funke' photography, booking & production:
CARY SULLIVAN
www.myspace.com/carysullivan


afro funke' promotion & production:
JORDAN ONEILL
www.facebook.com/jordaniscreative


*Plus Surprise Guest Deejays & Players of Instruments!!*

*Have your Birthday Party @ Afro Funke'! contact: afrofunke@yahoo.com*

*Drink specials every Thursday until 10:30pm!*

------------------:~0~:------------------
AFRO FUNKE': Thursdays @ Zanzibar
1301 5th St Santa Monica , CA 90401
9pm | 21+ (EVERYONE Must Have ID!)
310-451-2221| $10
ZanzibarLive.com| AfroFunke.com
------------------:~0~:------------------
UPCOMING:

October 29, 2009

NATURAL SELF
www.myspace.com/naturalself
+
PRINCE DIABATE
live!
www.princediabate.com

------------------:~0~:------------------
TAKE A SEC TO JOIN THE FUNKE' FAMILY:
JOIN THE AF EMAIL BLAST
Add AFRO FUNKE' on: MYSPACE | TWITTER
------------------:~0~:------------------



*Exclusive Afro Funke' T-Shirts @ the club each week.
Plus hand made hats, bags, belts & more provided by:
www.bigalhats.etsy.com
------------------:~0~:------------------

Afro Funke' supports: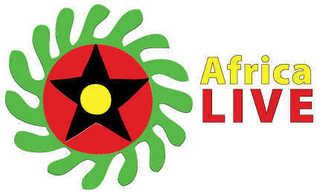 Africa LIVE! is a non-profit organization whose mission is to preserve, restore, and reinvigorate the Ghanaian music scene, creating public and industry awareness for its rich history and value, and commercial opportunities for artists and the community. Ghanaian international music star, Rocky Dawuni recognized the need to safeguard Ghana 's incredible music legacy. Through Africa LIVE! Dawuni plans to promote music education and appreciation in schools, provide schools and artists with access to instruments, venues and professional production assistance, and foster musical collaboration between the U.S. and Ghana .

We will have an Africa LIVE! donation box available at Afro Funke' each week. Or you can contact africalivemusic@gmail.com for more information regarding events and donations.

------------------:~0~:------------------
With a little help from our friends:



------------------:~0~:------------------

"What will be will be so be all that you can be."

ROCKY DAWUNI
------------------:~0~:------------------


Also tonight is Dance Right:
Also tonight at Respect:
Also tonight see the Lions:
Also tonight catch Transfer:

Always fill your LIFE with LOVE and LAUGHTER ~ PEACE OUT