Start everyday with some beats and laughter courtesy of Bassnectar....
That's also a great way to end the day as well!

------------------:~0~:------------------
TONIGHT THURSDAY, MAY 7, 2009
------------------:~0~:------------------
AFRO FUNKE'
WEEKLY FUNK INVOCATION
------------------:~0~:------------------
Afrobeat, Brazilian, Dub, Reggae, Cumbia, Samba Disco,
African Salsa, Afro-Latin House, Indian Beats, Makossa,
Balkan, Funk, Blues, Highlife, Broken-Afro-Beat, Salsa,
& Other deep-rooted soul music from around the world
------------------:~0~:------------------
Last Thursday - HEAVY HEAVY all night! Afro Funke' residents
GLENN RED & JEREMY SOLE spread out all night, getting deep
into every style they touched on, and the crowd was raging along
the whole way!

Much love to RICK WREN for jumping on the decks for a hot second,
with some rare African Disco edits and whatnot. Kenyan emcee
JUA CALI jumped on stage and rocked three tunes for the ears that
had never heard him, and his die-hard Kenya fans, and legendary
drummer REMI KABAKA jumped on the stage to play talking drum
along with J.Sole's Batucada set ...Another night for the books!!

This week we have a HUGE night in store for you starting with a film screening at 9pm, then an early DJ set by a legend in World Music and followed by a live show by smokin Brazilian ensemble. Not to be missed!!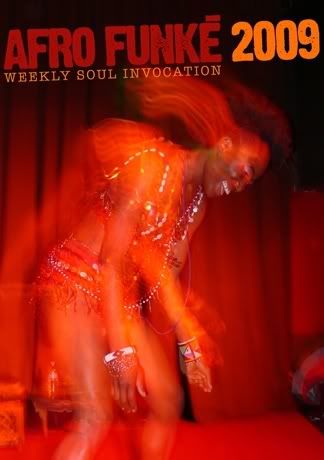 AFRO FUNKE' LIVE PRESENTS

SAMBADA
While Brazilian natives Papiba Godinho and Dandha da Hora bring their profound knowledge and respect for the roots of Brazilian song and dance, the entire band has developed a unique musical style with a universal appeal. SambaDá musically unites the Americas, drawing from percussion based styles of South and Central American samba and salsa, and blends it with that good old funk and reggae back beat so familiar to crowds of North America. The septet, which was formed by Papiba Godinho, has conquered
the club and festival circuit with its wildly explosive Carnaval-like performances.

The band is known for its high-energy percussion, danceable grooves and visually dynamic show. SambaDá is dedicated to making people dance by creating an ecstatic non-stop dance party that appeals to all ages and
cultures! With the addition of singer and dancer Dandha da Hora in 2005, a member of the infamous Ile Aiye of Brazil, an authentic Afro-Brazilian flavor has been fused with the band's already potent mash up of styles.
www.sambada.com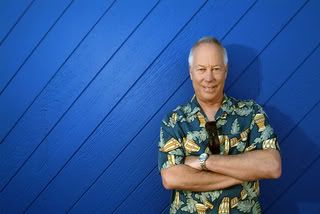 special guest deejay:
TOM SCHNABEL
Tom Schnabel is currently Program Advisor of World Music at the Hollywood Bowl and Walt Disney Concert Hall. He continues to help direct KCRW's successful World Festival series, featuring top artists
like Thievery Corporaton, Willie Nelson, Gotan Project, Zero 7, Gilberto Gil, A.R. Rahman, Carlinhos Brown, Youssou N'Dour, the Buena Vista Social Club, Cesaria Evora, Femi Kuti, Baaba Maal, and countless others.
The Walt Disney Concert Hall series has featured Ravi Shankar, Miriam Makeba, Alison Krause, Osvaldo Golijov, Gustavo Santaolalla, and other top artists.

In addition to KCRW, Schnabel has taught world music and other courses at UCLA Extension and the Southern California Institute of Architecture. He consults on world music with the National Academy of Recording Arts and Sciences, (NARAS), as well as producing world music CD's: Trance Planet, 5 volumes. (Triloka Records) and Quango World: Voices (Quango/Island). Recently he's worked as a consultant on the Palm Pictures/National Geographic series, Palm World Voices. Schnabel has written extensively about music for various publications, including the Los Angeles Times,
Jazz Magazine (France), Cashbox, Down Beat. Esquire. Buzz, and LA Style. He's authored two books: Stolen Moments: Conversations with Contemporary Musicians (Acrobat Books 1988). and Rhythm Planet - The Great World Music Makers (Universe/Rizzoli. l998).
www.kcrw.com



film screening:
FOOTSTEPS IN AFRICA
9pm Sharp!
"Footsteps in Africa, A Nomadic Journey" documents a universal tale of humans finding their path/freedom in life by living in simplicity with nature. Documented in a moment to moment manner the viewer experiences their mode of life, their relation to the earth and their perception on time. The viewer witnesses the Tuaregs mode of life, a survival from the soul.

"Footsteps in Africa, A Nomadic Journey" captures the people in their element, investigating their music, their dance, their survival skills, and the rituals that the Tuareg carry within to keep their culture and heritage alive. Combined with commentaries of tribal chiefs, healers and seekers, the film allows the viewer to think and question the modern way of 'development', and how it differs from the simplicity of life and its cycles.
www.footstepsafrica.com

resident deejay:
JEREMY SOLE
(Afro Funke' / KCRW / Musaics)
www.kcrw.com/jeremysole
www.myspace.com/musaics
www.twitter.com/jeremysole
www.blip.fm/jeremysole

resident deejay:
GLENN RED
www.myspace.com/glenn_red

host:
ROCKY DAWUNI
www.rockydawuni.com
www.myspace.com/rockydawunimusic

afro funke' photography, booking & production:
CARY SULLIVAN
www.myspace.com/carysullivan

afro funke' production & promotion:
JORDAN ONEILL
www. twitter.com/jordaniscreativ

*Plus Surprise Guest Deejays & Players of Instruments!!*

*Have your Birthday Party @ Afro Funke'! contact: afrofunke@yahoo.com*

*Drink specials every Thursday until 10:30pm!*

------------------:~0~:------------------
AFRO FUNKE': Thursdays @ Zanzibar
1301 5th St Santa Monica, CA 90401
9pm | 21+ | 310-451-2221| $10
ZanzibarLive.com| AfroFunke.com
------------------:~0~:------------------
TAKE A SEC TO JOIN THE FUNKE' FAMILY:
JOIN THE AF EMAIL BLAST
Add AFRO FUNKE' on: MYSPACE | TWITTER
------------------:~0~:------------------



*Exclusive Afro Funke' T-Shirts @ the club each week.
Plus hand made hats, bags, belts & more provided by
Big Al Hats
------------------:~0~:------------------

Afro Funke' supports: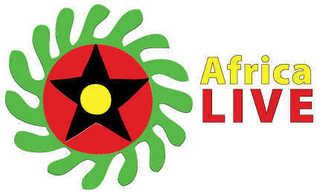 Africa LIVE! is a non-profit organization whose mission is to preserve, restore, and reinvigorate the Ghanaian music scene, creating public and industry awareness for its rich history and value, and commercial opportunities for artists and the community. Ghanaian international music star, Rocky Dawuni recognized the need to safeguard Ghana's incredible music legacy. Through Africa LIVE! Dawuni plans to promote music education and appreciation in schools, provide schools and artists with access to instruments, venues and professional production assistance, and foster musical collaboration between the U.S. and Ghana.

We will have an Africa LIVE! donation box available at Afro Funke' each week. Or you can contact africalivemusic@gmail.com for more information regarding events and donations.

------------------:~0~:------------------
With a little help from our friends:



------------------:~0~:------------------

"All the world's a stage and most of us are desperately unrehearsed."

Sean O' Casey
------------------:~0~:------------------


Also tonight catch the Tribal Fusion Belly Dance at the Fowler @ 6:00pm
Here are a few more very fun events:
Also tonight:
There is a NEXTAID benefit show tonight, and that's some real good-kinda-thing to support:
Also tonight Catch Edward Sharpe live:
http://www.myspace.com/edwardsharpe
And just heard about this open mic night, featuring Mystic called Off The Books: