It's Thursday.
That means 1 day closer to the weekend and 1 day closer to Burning Man!
Hmmm, something interesting to say.....
--> momentum
You gotta get on it, ride it with me, otherwise it might pass us by!
And a song to capture the mood:
Now for your eventings:
Free music at the Santa Monica pier at 7pm!
Also Tonight is
Afro Funke'
!!!
Last Thursday was a whirlwind of good music and good energy!
DJ MANDO FEVER debuted at Afro Funke' and hit it perfectly.
THE LATIN PROJECT sparked the packed room into a frenzy with
the legendary FREDDIE CRESPO joining KATIA MORAES &
DEBI NOVA on vocals! ...Throw in two DJ sets by our own
GLENN RED and JEREMY SOLE, plus one by birthday boy
DJ CONCISE and the place was on fire!

This week we welcome an exciting new DJ / label owner as well as a legend of Nigerian music!

 Plus we welcome back our host ROCKY DAWUNI who is returning from his smash European tour and will be playing at THE ROXY on FRIDAY, AUGUST 28 with B-SIDE PLAYERS!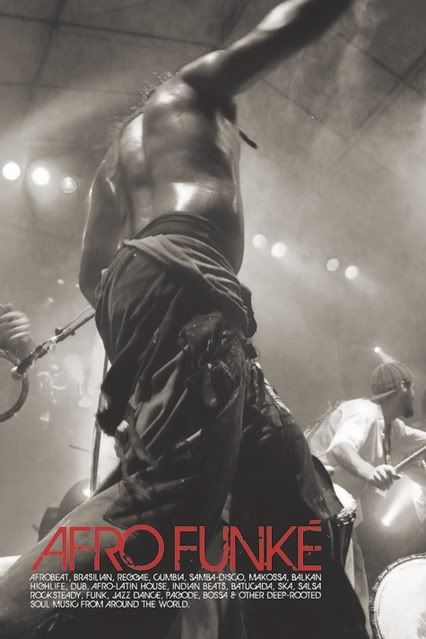 ------------------:~0~:------------------
TONIGHT
------------------:~0~:------------------
AFRO FUNKE'
WEEKLY FUNK INVOCATION
------------------:~0~:------------------
Afrobeat, Brazilian, Dub, Reggae, Cumbia, Samba Disco,
African Salsa, Afro-Latin House, Indian Beats, Makossa,
Balkan, Funk, Blues, Highlife, Broken-Afro-Beat, Salsa,
& Other deep-rooted soul music from around the world
------------------:~0~:------------------



guest deejay:
DJ BBRAVE
Akwaaba Music's founder caught the African bug in 2007 on his first trip to Ghana . Since then, he's spent months all over Senegal , Mali , Côte d'Ivoire , Ghana , Benin , Togo and Angola , bridging the gap between locally established artists and music fans worldwide. Akwaaba releases the music, BBRAVE shares it on the dancefloor. Ghanaian hiplife, Ivorian coupé décalé, Angolan kuduro mixed in with classic highlife, soukous and other worldly strains of funk, there's a lot to work with, and BBRAVE brings the works.
www.akwaabamusic.com

+



live drumming by:
NAJTIE
Son of an Urhobo tribal chieftain, NAJITE AGINDOTAN is a master percussionist who, from a very young age, traveled with the Urhobo cultural music troupe under his father's direction. They traveled throughout West Africa and performed at national festivals in their native Nigeria . A fervent participant, Najite devoted himself to theater performance, traditional dancing and drumming. In his early teens, Najite was introduced to international superstar Fela Kuti and his original Afrobeat music, a potent combination of Nigerian dance styles layered with funk guitars and Yoruba rhythms. Najite became Fela's student and, upon the death of his father, he was taken by Fela as his godson in a traditional ceremony at the African Shrine in Lagos , Nigeria.After relocating to Los Angeles , California , Najite immersed himself in the arts of the African Diaspora. His talent and reputation grew as he worked with jazz luminaries such as Horace Tapscott's Pan-African People's Arkestra, Billy Higgins and Jimmy & Jeannie Cheatham. During this period Najite was also privileged to contribute to the work of African artists such as Remi Kebaka.
www.myspace.com/najiteolokunprophecy

resident deejay:
JEREMY SOLE
(Afro Funke' / KCRW / Musaics)
www.kcrw.com/jeremysole
www.myspace.com/musaics
www.twitter.com/jeremysole
www.blip.fm/jeremysole


resident deejay:
GLENN RED
www.myspace.com/glenn_red

host:
ROCKY DAWUNI
www.rockydawuni.com
www.myspace.com/rockydawunimusic

afro funke' photography, booking & production:
CARY SULLIVAN
www.myspace.com/carysullivan

afro funke' production & promotion:
JORDAN ONEILL
www.twitter.com/jordaniscreativ

*Plus Surprise Guest Deejays & Players of Instruments!!*

*Have your Birthday Party @ Afro Funke'! contact: afrofunke@yahoo.com*

*Drink specials every Thursday until 10:30pm!*

------------------:~0~:------------------
AFRO FUNKE': Thursdays @ Zanzibar
1301 5th St Santa Monica , CA 90401
9pm | 21+ (EVERYONE Must Have ID!)
310-451-2221| $7 before 11pm - $10 after
ZanzibarLive.com| AfroFunke.com
------------------:~0~:------------------
UPCOMING:
AUGUST 27, 2009
DJ MAGABO
www.myspace.com/magabo
------------------:~0~:------------------

TAKE A SEC TO JOIN THE FUNKE' FAMILY:
JOIN THE AF EMAIL BLAST
Add AFRO FUNKE' on: MYSPACE | TWITTER
------------------:~0~:------------------



*Exclusive Afro Funke' T-Shirts @ the club each week.
Plus hand made hats, bags, belts & more provided by
Big Al Hats
------------------:~0~:------------------

Afro Funke' supports: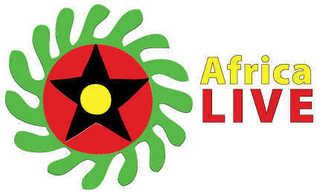 Africa LIVE! is a non-profit organization whose mission is to preserve, restore, and reinvigorate the Ghanaian music scene, creating public and industry awareness for its rich history and value, and commercial opportunities for artists and the community. Ghanaian international music star, Rocky Dawuni recognized the need to safeguard Ghana 's incredible music legacy. Through Africa LIVE! Dawuni plans to promote music education and appreciation in schools, provide schools and artists with access to instruments, venues and professional production assistance, and foster musical collaboration between the U.S. and Ghana .

We will have an Africa LIVE! donation box available at Afro Funke' each week. Or you can contact africalivemusic@gmail.com for more information regarding events and donations.

------------------:~0~:------------------
With a little help from our friends:



------------------:~0~:------------------

" The most important thing in life is style. That is, the style of one's existence - the characteristic mode of one's actions - is basically, ultimately what matters. For if man defines himself by doing, then style is doubly definitive because style describes the doing."

Tom Robbins
------------------:~0~:------------------


Also tonight is Respect with 3 stages of sound:
Also tonight is is Dance Right:
Also tonight try this roller disco party:
Also tonight:

Always fill your LIFE with LOVE and LAUGHTER ~ PEACE OUT