Tonight is an important night for several reasons....
1) The two artists I represent
Jupit3r
and
Stephan Jacobs
are both performing tonight (two separate sets and then a special tag-team set at 2 different amazing events)
2) There are two great events tonight, one of which is a fundraiser for a friend I respect very much, Xavier!
MISSION:X is amazing event, featuring a ton of my good friends, all coming together to support our friend Xavier! Don't miss out on a great night of music, as well as a chance to witness the pour of our community coming together! With music by Ruffhouser, Imagika, Oscure, Stephan Jacobs, and Jupit3r! Over 25 artists total!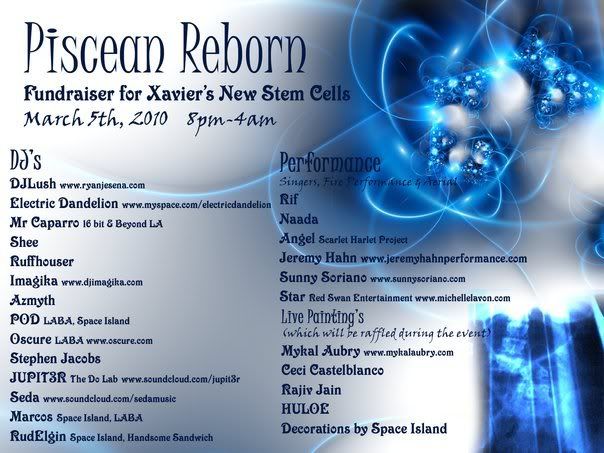 Xavier wants to Walk. Let's help Xavier walk again!
We are having a 'help-heal-X-charity-party!!!' Or if you prefer, the theme will be,

"A PISCEAN REBORN"

This Friday, March 5, 8pm-6am, just 13 days before Xavier's 33rd birthday, come out and play with us! Incredible DJ's, Aerialists, Fire Performers, Singers, Painters, are all donating their energies for this cause. It's an amazing opportunity for our community to come together for a very specific and worthwhile cause...

OUR GOAL FOR THIS EVENING WILL BE $10,000. I know we can do it!

If you cannot attend, but would like to help, we are also graciously accepting donations though a paypal account.

(To buy tickets go to the link below. Please check the "gift" box, so a transaction fee will not be assessed. Tickets are $20.00 The amount field is blank. If buying tickets for more than one person in a transaction; please specify in the notes the names corresponding with the purchase or we will assume that the amount is for one ticket and donations. Amounts less than twenty will be considered a donation. )

ALL FUNDS ACCUMULATED FOR THIS CAUSE WILL GO INTO A SEPARATE BANK ACCOUNT CALLED, "THE MISSION:X TRUST FUND". I (Michelle Lavon) WILL BE THE SOLITARY CUSTODIAN, GUARDIAN, AND ADMINISTER OF THIS TRUST FOR XAVIER UNTIL THE TIME COMES FOR HIS TREATMENT TO BE PAID FOR

here's the link!

http://redswanfire.com/x.html

Xavier and I both thank you all for this continuing love and support.


Musical Performance by:
JUPIT3R (TheDoLab ~ http://soundcloud.com/jupit3r)
IMAGIKA (http://djimagika.com)
OSCURE (LABA http://oscure.com)
RUFF HAUSER (Space Island, Kether, Handsome Sandwich)
HYJYNX (http://ninjaskillz.net)
DJ LUSH (http://ryanjesena.com)
STEPHAN JACOBS
RUDELGIN (Space Island, Handsome Sandwich)
AZMYTH
ELECTRIC DANDELION (http://myspace.com/electricdandelion)
POD (LABA, Space Island)


Fabulous performances include:
Fire by RIF (Ryan Parks)
Aerial by ANGEL (Scarlet Harlet Project)
Dance by JEREMY HAHN PERFORMANCE (http://jeremyhahnperformance.com)
Aerial by SUNNY SORIANO (http://sunnysoriano.com)
Aerial and Fire by STAR (Michelle Lavon http://michellelavon.com)
NAKED FLAME ACT by LALA and MICHAEL TAM WOOD
Fire by MAKI HATAYAMA
Aerial by ALICIA


Live Painting by:
~MYKAL AUBRY (http://mykalaubry.com)
~CECI CASTELBLANCO
~RAJIV JAIN
~HULOE
~ROGER FOJAS

FABULOUS RAFFLE PRIZES include
ALL 5 LIVE PAINTINGS, Renaissance Cloak, Native American Lakota Shawl, Vintage Jewelry, Limited Edition Picasso Plate, Massage, Flapper Purse and Belt

Each prize has a separate raffle, so bring funds for tickets!

Roving photography by CuriousJosh (http://CuriousJosh.com)
(all photographers welcome! -Josh)

Videography by Smitty & AT

Enjoy yourself at the LALA PLEASURE FAIRY station
Support CHEESE FOR LEGS by purchasing GRILLED CHEESE SANDWICHES!


8pm-6am
Private Party
Suggested Donation $20 (or more)
Mesmer Ave & Jefferson Blvd, 90230
(We will have a guide in the grocery store parking lot, near the recycling shack, to show you the way.)



I would like to share some things about my big brother, Xavier Cross. My name is Michelle LaVon, but I'm also known as Star or Starburst.

You might already know and love him. Maybe you have seen or heard of him around our community. His caring, fun-loving, and hardworking nature have placed him dearly in the hearts of many people.

As his sister, I have been blessed with a lifetime of his inspiration and dedication. When we were children we played basketball and ran track together. We hiked over mountains and played like normal children do.

On August 13, 1999, months after having served in the US marine core, everything changed for Xavier. On that morning, he and a buddy were involved in an automobile accident. Xavier was ejected from his vehicle and then it rolled over on top of them both. After a full day in a coma Xavier woke up in the hospital to a drastically different reality. He had severed his vertebrae in ten separate places, broken multiple ribs, endured a severe head injury, and sustained numerous gashes and cuts throughout his body. After many surgeries, he slowly began his long recovery. The doctor's original prognosis was summed up like this, "You are lucky to be alive, so be glad you're only in a wheelchair."

The "roller-pig", as Xavier preferred to call it, was his sole means of movement for over a year. But Xavier was too stubborn to believe that he would never walk again.

At first Xavier experienced no feeling from the chest down. Slowly, however, his nerves began to work again and he began to feel intense pain in his legs (which he still endures to this day). The doctors called this pain 'nerve-shocks'. It is a mystery why he has no feeling through most of his legs but still experiences these 'nerve-shocks'. The experts have yet to understand this about Xavier's condition.

After many months of rehabilitation Xavier started to understand how to work with his new body and deal with this new pain. He often tries to conceal it from those around him. I see him go through it on a day to day basis. But through all of this, he does not complain nor allow for any self-pity. He remains positive. This has always amazed and inspired me.

It has been and continues to be his strength of will that pushes him forward. The mobility that Xavier now has, is partially possible from two leg braces he must wear: up to the thigh on the left leg, and up to the knee on the right.

A few years ago life started to dramatically change again for Xavier. The first night he and I stepped into Space Island, a shift occurred. On this night, he first met the pirate family who would grow to love him. This meeting would lead to his 2005 arrival on the black rock playa for the first time. Many of us will agree that the playa can certainly test an individual on their first burn, and it made no exception for Xavier!

Within only a few hours, he had lost everything from his pockets and broke both his leg braces. But this was his gauntlet to run through and come out the other side. ('Thank you!' to those who helped his journey through that burn.) Upon his return to LA, I watched as he pulled his body into our apartment. He had experienced the playa w/ hardships that none of us will ever be able to imagine. He was exhausted and broken... but he was happy... Like so many before him, he too had found his Home.

It wasn't the dust, or the parties or the music, or even the art. Home was, for him, the discovery of a group of people, who cared, were open, and loving to him. (and also just as crazy!) He had found his pirate family at long last.

He became a fixture at Space Island helping out however he could. Last year while helping the Do Lab prepare for Coachella, I remember watching him carry out two large speakers, one slung over each shoulder. Then, I heard someone say, "We need to get back to work... Can't be lazy around X."

All of us have limitations, but Xavier's will not let his limitations keep him down. He is an inspiration to me and i know i am not alone in this feeling. He challenges me to seek the best in whatever challenges life delivers.

Ten years after the accident in August of 2009, Xavier told me that he reflected on his ten year journey and asked himself if he was done healing. His answer to himself was this:

"Not even close!"

So the last few months have been spent researching, calling, writing, emailing, and journaling – preparing to take his healing to the next level. Much of his investigations have been into stem cell research and the possibilities it could hold for him. The procedure that he is now preparing for is somewhat experimental. There are no guarantees, but he is going to give it a try.

The initial procedure will cost $30,000 and that does not cover any follow up treatments or rehabilitation. While he is doing everything he can to prepare his body and spirit for this next phase, he needs some assistance to help pay for it to begin.


***********




Also tonight is Illumanotic, which happens before and after the fundraiser mentioned above! Check out this awesome event featuring art work by Andrew Jones, music by Bluetech, and the after party features the special Pha-Droid performance along with music by Bluetech, Jupit3r, Stephan Jacobs and more!




99 HIGH ART AND I AM U PRESENTS
ANDROID JONES
ADDICTED TO THE LIGHT
The Electric Dependent Art of Android Jones
at
99 High Art Gallery
1108 Abbot Kinney Blvd.
Venice, CA 90291
PH: (310) 450-8699
www.99collective.com

Downtemple Sets by
BLUETECH
MICHELLE BASS
KARIM SO
Live Sitar by
Rikshara & Cyrus

Android Jones brings forth a new body of electrically dependent artwork to the 99 High Art Gallery on March 5th 2010. Jones draws his inspiration from the edge of reality to the corners of human perception. For Android the true medium of art is the mind. He translates the electrical impulses of creativity and imagination directly into an interface powered by light and energy. Several of his new works will be on display in custom assembled Light boxes measuring up to 8 feet in length and some over 4 feet in height. The Light Box objects display Jones' creative effort in rich and vibrant colors. The light boxes express a frequency that no analog medium can achieve. Each work brings the viewer closer to the intended experience of the medium in which they were created.

THE NIGHT CONTINUES AT AREA 33
AS WE CELEBRATE THE OPENING ART EXHIBIT OF ANDREW JONES @ 99 HIGH ART GALLERY!

FEATURING THE PHA-DROID PERFORMANCE
http://www.youtube.com/watch?v=Scn4Om48TVQ
http://vimeo.com/4309474

PHADROID: A combination of proprietary software, custom digital hardware and human sensitivity enable projected visuals to or­ganically tune into the fluidity of motion created on stage. The shapes, colours and images generated by visionary artist Android Jones accentuate and intuitively blend in with a multitude of intricate dance movements created on stage by dancer Phaedra Ana. The experience unfolds in real time, tapping into the same current of creative energy, until a new level of spatial depth is achieved.

Each performance inherently reflects unified intentions as a joint frequency between the two artists that is palpable in the intensity of the space created in the auditorium. Using sound tracks of the latest contemporary underground music, the couple are capable of creating a physical-visual-audio state of synaesthesia that is a new addition to the pantheon of Live Performance Art – and which carries the potential to solidify into an entirely new form of artistic expression with an infinite amount of variation in possibility.

DJ SET BY
BLUETECH
PATRICIO
JUPIT3R
STEPHAN JACOBS
MARCOS

BRING A T-SHIRT OR ANY PIECE OF CLOTHING AND GET A CUSTOM SCREEN PRINT OF ANDREW JONES ARTWORK
by Sewop

Art Gallery curated by Toby Smith courtesy of I AM U (interdemensional art movement unified)

AREA33
11822 TEALE STREET
CULVER CITY, CA

11PM TO 6AM
$20 at the door
$15 pre-sale tickets now thru 11pm Friday at 99 High Art Gallery
http://www.99collective.com

Any wristband from this event will get a 50% discount for
the "Picean Reborn" Fund raiser for Xavier's New Stem Cell event at Mission Control






... brought to you by Jordan ...